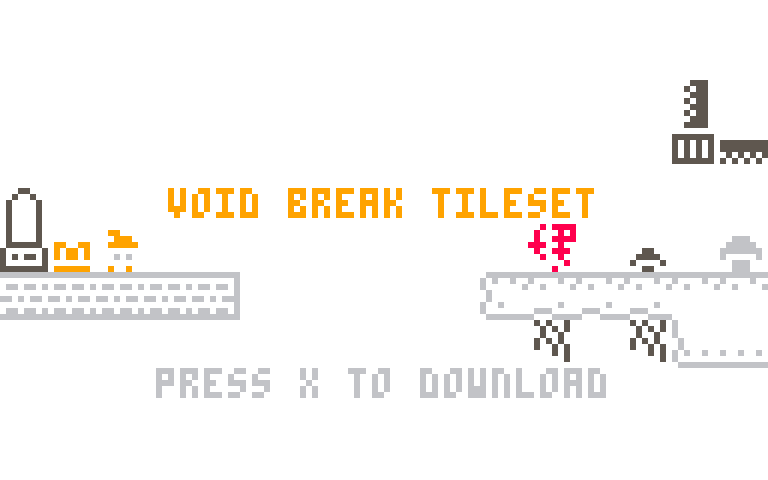 8x8 1-bit Inspired Tileset from Void Break!
A downloadable asset pack
I've alway loved limitations, and art within limitations, and that is how i ended up with PICO-8 for a really long time! For one of my games i wanted to create roguelike project, that is:

(or clock mage as it's jam name), with variable maps and enemies, and now i would love to release this tiles for others to use!
This Tileset Pack contains:
Mushroomy grassland tileset
A broken down castle/fortress tileset
An old laboratory tileset
Player animations sprites: Idle (2 frame), Run (4 frame), Jump (2 frame) and a Wand to cast spells.
9 enemies with 2 frame animations! Including slimes, skeletons, knights, robots!
Spell Icons
UI icons
Tile props
Mushroom Tileset contains:
Tiles to use basically in any direction, 1 high tiles, background tiles, and over 12 props including grass, mushrooms, spore flowers etc...
Enemies designed for this tileset: Slime, Shroom (ranged), Treants (slow tanks)
Castle Tileset contains:
Tiles to use basically in any direction, 1 high tiles, background tiles, swords, fences, cobwebs!
Enemies designed for this tileset: Skeleton Archers (ranged), Knights (slow tanks), Ghosts (wall phasing free movement)
Laboratory Tileset contains:
Tiles to use basically in any direction, 1 high tiles, multi directional pipes for background props, ventilation props, and broken/old lab equipments!
Enemies designed for this tileset: Boomers (fast moving exploding enemy), Security Tanks (slow moving literal tanks), Drones (fast moving low HP ranged enemies)

Player pack contains:
4 sprites for run animation
2 sprites for idle
1 sprite to add for jump
1 wand sprite for casting spells

Spell pack contains:
Fireball, Flamelance, Ignite, Lightning, Sawblade, Mines, Shield, Heal, Swiftness spell icons
UI icons:
Health indication hearts
Timer
Soul indicators (currency in the original game)
Ticking clock for the teleporter event
6 Runes for the rune crafting
Tile props:
A teleporter, small and large chest, pots and shrines! All things that can be opened have an "opened" variation for game clarity (all of them recolored and modified to help better distinguish them from non-opened ones.)

The zip file includes:
The original pico-8 version.
A modified version, transparent included, ASE file included
Separate player sprite sheet, transprent included.
Separate enemy sprite sheet, transparent included.
Licence file
Readme file
Favicon
License:
This project is under the protection of Creative Commons Attribution 4.0 International Public License, which means the following in easy readable form:
You are free to:
Share — copy and redistribute the material in any medium or format
Adapt — remix, transform, and build upon the material
for any purpose, even commercially.
The licensor cannot revoke these freedoms as long as you follow the license terms.
Under the following terms:
Attribution — You must give appropriate credit, provide a link to the license, and indicate if changes were made. You may do so in any reasonable manner, but not in any way that suggests the licensor endorses you or your use.
No additional restrictions — You may not apply legal terms or technological measures that legally restrict others from doing anything the license permits.
Social Stuff:
You can follow, message or commision me! Reach out on one of these platforms:
https://linktr.ee/AchieGameDev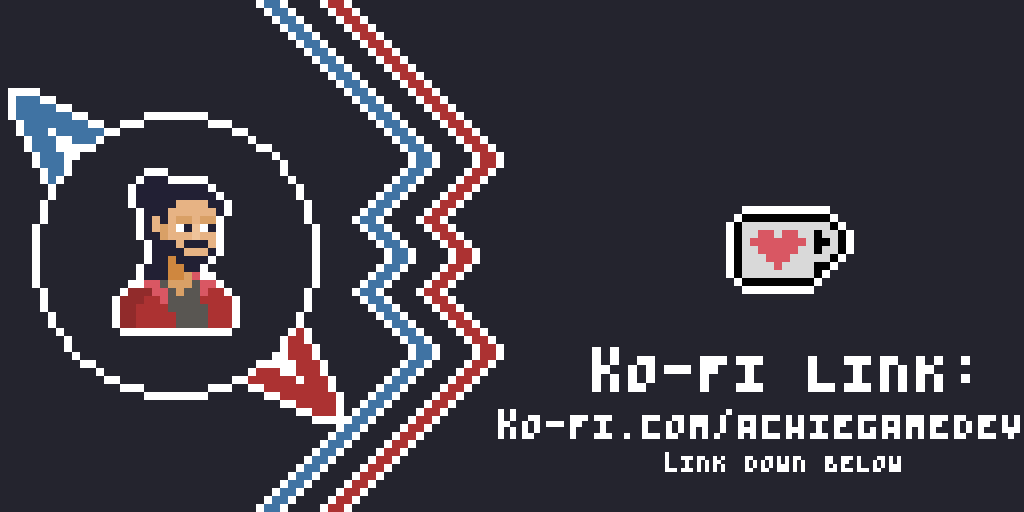 I have a Ko-fi page as well, where i take commisions if you would want your custom tileset!
Purchase
In order to download this asset pack you must purchase it at or above the minimum price of $2 USD. You will get access to the following files: